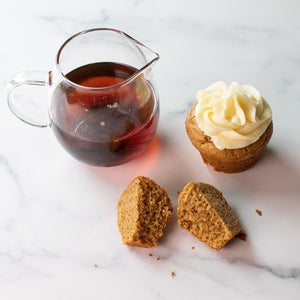 Maple Ginger Cupcakes
Ingredients
2 eggs
1 cup sour cream
¾ cup maple syrup
½ cup brown sugar
½ cup butter, melted
2 ½ cups flour
3+ tsp. ginger (can add extra if you like it gingery)
2 tsp. cinnamon
1 tsp. baking soda
1 tsp. baking powder
½ tsp. salt
½ tsp. cloves
½ tsp. nutmeg
Directions 
Beat eggs until light. Add sour cream, maple syrup, brown sugar and melted butter.
Sift dry ingredients together, add to egg mixture and beat until smooth.
Lightly butter cupcake tins or use paper liners. Pour batter and bake at 350 degrees for 20 - 25 minutes.
Cupcakes are done when they bounce back when touched, or toothpick comes out clean.
Makes 18 cupcakes. These are delicious with lemon frosting or whipped cream!
---