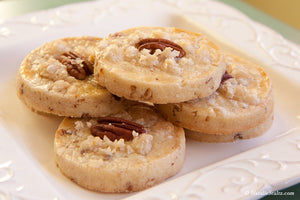 Maple-Pecan Shortbread
Maple syrup adds a robust flavor to this nut-studded shortbread.
Ingredients
2 1/4 cups all-purpose flour, plus more for work surface
1/2 cup cake flour (not self rising)
1/2 teaspoon salt
1/2 cup pecan halves (about 2 1/4 ounces), finely chopped, plus 24 whole pecan halves, for decorating
1 cup (2 sticks) unsalted butter, room temperature
3/4 cup granulated sugar
1/3 cup pure maple syrup
1 large egg yolk
1 large egg, lightly beaten
1 Maple candy (about 1.5 oz), for sprinkling

Directions
Sift flours and salt into a bowl. Whisk in chopped pecans.

In the bowl of an electric mixer fitted with the paddle attachment, beat butter and granulated sugar on medium-high speed until smooth and light, about 1 minute. Add maple syrup, egg yolk, and extract; beat on medium speed until well combined. On low speed, gradually add flour mixture, beating until just combined. Dough should be smooth and pliable. Flatten into a disk. Wrap in plastic; refrigerate until firm, 1 1/2 hours or overnight.

Preheat oven to 350°F. Line a baking sheet with parchment paper.

On a lightly floured work surface, roll out dough to 1/4 inch thick. Cut out rounds using a 2-inch cookie cutter; place 1 inch apart on prepared baking sheet. Brush tops with beaten egg; place pecan half in the center of each cookie.  Crumble maple candy into granules and sprinkle on top of the cookies.

Bake cookies, rotating sheet halfway through, until golden around the edges, 10 to 12 minutes. Transfer to a wire rack to cool. Cookies can be stored in airtight containers at room temperature up to 4 days.

MAKES ABOUT 2 DOZEN
---