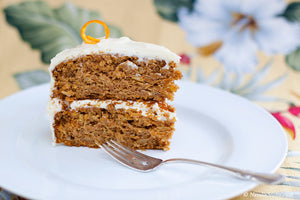 Spiced Maple Carrot Cake with Maple Cream Cheese Frosting
This cake is moist and rich with spice and maple flavor.  A great cake for festive occasions!
Ingredients
FOR THE CAKE
1 cup unsalted butter, plus more for pans
1 1/4 cups flour, plus more for pans
1 1/4 cups whole wheat flour
1 tbsp baking powder
1 tbsp baking soda
1 tbsp ground cinnamon
2 tsp ground ginger
1 tsp salt
1/2 tsp ground allspice
1 cup sweetened flaked coconut
1/2 cup finely ground almonds
3 cups finely grated carrots
3/4 cup packed dark brown sugar
1/2 cup maple syrup
3 eggs, separated
1/2 cup plain yogurt
1/4 cup orange juice
1 tbsp orange zest
1 tsp vanilla extract
 
Maple Cream Cheese Frosting

8 oz cream cheese
1/2 cup butter, softened
5 cups sifted confectioner's sugar
3 tbls Maple Syrup
Directions
Heat oven to 350°. Butter and flour two 9" round baking pans; set aside.

In a bowl, whisk together flours, baking powder and soda, cinnamon, ginger, salt, and allspice. Finely grind coconut and almonds in a food processor. Combine nut mixture, carrots, and add to flour mixture; mix.

Beat together butter and brown sugar 1–2 minutes until fluffy in a large mixing bowl; beat in yolks one at a time. Add yogurt, juice, zest, and vanilla; beat. Add flour mixture; beat. Whisk egg whites to stiff peaks; fold into batter. Divide batter between pans; smooth tops with a spatula. Bake for 30–35 minutes. Let cool.

To make frosting: cream together cream cheese and butter, add the maple syrup and sugar and beat at high speed to spreading consistency.
 Adapted from Saveur Magazine 
---